Almost all new business are self funded. Surprising? It get better…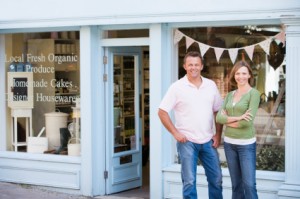 The SBA (Small Business Administration) is the main place to go for small business loans. They have a variety on low interest loans to help businesses started and grow.
Read more…
or
Check your eligibility
Bank loan
Getting a loan isn't possible for a new business unless you have a good personal credit or assets that you are willing to put as collateral. The Small Business Administration (SBA) can help get you a loan without normal guarantees by guaranteeing your loan.You can find on the following page the bank offering the most micro-loans (unders $100,000) in your State. Once you found located your State look at Table 3b in column "Number" for the number of loans given.
Credit Cards
Having a good history may help you get a line of credit to fund your startup. The flip side; not all credit cards offer a line of credit for entrepreneurs. You'll need to contact your bank and discuss your options. This is one of the riskiest option on the lists (as you're responsible to pay your line of credit). But it keep you in full control your company.
Trade equity or services for startup help

This is also called bartering your skills or something you have for something you need. An example would be negotiating free office space by agreeing to support the computer systems for all the other office tenants. Another common example is exchanging equity for legal and accounting support.
This can be great way to get ahead by:
– Lowering your cost or need for funding.
– Ideally offering your business service or product in exchange and having early adopters you can later use as references.
– Having a foot in the door for potential clients for your future product or service.
There are so many way to do this, only you imagination can limit you.
Get an advance from customers or partners
Find a customer (small or big), or a complimentary business, who sees such value in your idea that they are willing to give you an advance on payments to complete your product or service. Also sites like kickstarter.com often enable your funding in exchange of your products and services by having people pay in advance.
Startup accelerator or incubator
Organizations, such as 500startups or Y Combinator, are very popular right for software and IT companies. Most provide free resources to startups, including office, consulting. Many also provide seed funding. The usual way in is applying to do your pitch at specific date throughout the year. Find your local incubators or accelerators organizations.
Solicit venture-capital investors
Those investors invest money in qualified startups. The new company usually need to have a proven business model (read some revenue or profit or strong patents) and ready to scale. Such investors usually look for big opportunities, needing a couple of million dollars or more, with a proven team. Look for an inside intro to be able to pitch your business, model and team.
Apply to local angel-investor groups
Most metropolitan areas have groups of local high-net-worth individuals interested in supporting startups, and willing to syndicate amounts up to a million dollars for qualified startups. Use online platforms such as Gust to find them, and local networking to find ones that relate to your industry and passion.
Start a crowdfunding campaign online
This newest source of funding are becoming very popular with sites like as Kickstarter. People make online pledges to your startup during a campaign, to pre-buy the product for later delivery or give donations. You can also try Kiva.org as it's now providing 0% small loans in the country.
Apply for a small-business grant
These are government funds allocated to support new technologies and important causes, such as education, social, etc. Start looking by going to Grants.gov. It's a directory of all federal grant programs. The process is long, but it doesn't cost you any equity.
Federal, State and City help
There is no free lunch. Most new small business funding aid comes as loan guarantees, tax incentives and other similar programs. So this rarely help you unless you're already have decent revenues, looking to expand, rarely when you start.
Pitch your needs to friends and family
As a general rule, if you want to raise money from professional investors they'll expect that you have already have commitments from this source or your own money to show your credibility. If your friends and family don't believe in you, the likelyness of outsiders to jump in will decrease. This is the primary source of non-personal funds for very early-stage startups.
Fund your startup yourself
These days, the costs to start a business are at an all-time low, and over 90 percent of startups are self funded (also called bootstrapping). It may take a bit longer to save some money before you start and grow organically, but the advantage is that you don't have to give up any equity or control. Your business is yours alone.
You can see that all of these options require work and commitment on your part, so there is no magic or free money. Every funding decision is a complex tradeoff between near-term and longer-term costs and paybacks, as well as overall ownership and control.
With the many options available as described above, there is no excuse for starting your own business.