Our picks for the week of December 19: more foreclosure lawsuits in the process, good news for Michigan, Obama is clueless to resolve the housing crisis, home insurance on the rise in unaffected disaster areas and a warning for potential buyers of HUD homes!
Underwater VA-Backed Mortgages May Be Eligible for Cash Rewards for Staying Current
Veterans are often negatively impacted due to property location and deployment restrictions. As a result, the Responsible Homeowner Reward® (RH Reward program) has provided assistance to nearly 7,000 veterans and serving military and their families.
Homeowners getting NFMC counseling twice as likely to obtain mortgage modification
A report by NeighborWorks America prepared by the Urban Institute on the consumer benefits of the National Foreclosure Mitigation Counseling (NFMC) Program shows that homeowners who received NFMC counseling were nearly twice as likely to obtain a mortgage modification and at least 67 percent more likely to remain current on their mortgage nine months later.
The President has no idea how to resolve the housing crisis, does someone else?
"It occurred to me that after 35 years of my working in the real estate market this man really had no more idea of how to resolve the problem than the average homeowner. Unfortunately our President and his advisers are clueless and potentially deleterious to the process."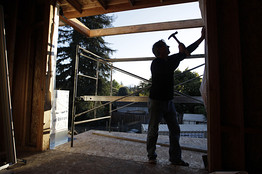 Housing market index rose for the 3rd straight month reported by NAHB
National Association of Home Builders saw all three components of the builders' index increased, including a three-point jump in traffic from potential buyers. Sales expectations over the next six months and builders' assessment of current sales conditions also grew.
Homeowners in regions unaffected by the disasters facing higher home insurance rates!
Many are seeing double-digit increases, and a few will pay premiums more than 20 percent higher when it's time to renew their policies. Insurers are charging more in order to pay for higher loss projections and the rising cost of reinsurance, which is insurance on their insurance.
Federal prosecutors stay on sidelines as judges point fingers at foreclosure wrongdoing
The federal government, as has been widely noted, has pressed few criminal cases against major lenders or senior executives for the events that led to the meltdown of 2007. Finding hard evidence has proved difficult, the Justice Department has said.
A series of Bills signed to keep Michigan residents in their homes
"This legislation helps protect families and ensures the stability of Michigan communities," said Snyder. "When foreclosures are prevented, homes are not vacated, families are not displaced and townships, cities and counties do not lose the tax base provided by homeownership."
State attorney suing Chicago-area firms for alleged mortgage rescue schemes
The state attorney general's office filed suit Monday Dec. 19, against three Chicago-area firms and their principals who allegedly operated mortgage rescue schemes that conned homeowners out of more than $44,000 in upfront fees and provided them with little or no help.
WARNING – to all thinking of buying a HUD home, PLEASE read this first
A HUD spokeswoman told the station that HUD homes are sold as-is. Because HUD does not perform mold testing or other more involved inspection processes, the agency recommends that homebuyers enlist their own home inspection service to conduct a more detailed assessment of the property.
More inspiring stories of people fighting back!
Lender Processing Services Inc., the company targeted by Nevada's attorney general in a foreclosure robosigning investigation, has been hit with a class-action lawsuit filed by Las Vegas and Henderson homeowners.
Thanks for reading!