Small Business Top 10 for the week of November 28 in a flash consisted of a 107% increase in online hiring, questions your true motives behind wanting to start a business, offers entrepreneurs a different way of funding and reward programs open up new possibilities for small businesses.
"I am not sure that you choose to be an entrepreneur; it chooses you."
This is the last line in the article but I think it sums it up well. You may want to become an entrepreneur but could you live with the reality? Read on and then ask yourself again, do I really want to start a business. This is not for the faint of heart.
"The number of businesses hiring online has increased 107 percent since last year."
I believe we could also call this outsourcing. MFP has been doing this for years. The advantages are in the flexibility to pay as you go by contract and therefore saving on cost as opposed to having full-time employees. Also the candidates know their is stiff competition which usually renderings quality and timely results.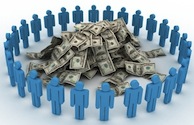 The money doesn't have to be paid back. Instead, the typical engagements can involve barters.
Crowdsourcing is an option that steps away from the traditional vain that entrepreneurs use to trying and finding funding for a their business. Small amounts of money from a larger pool of people with the intent of repaying the money by offering your product or service in return. Only those wanting what you have will "invest" money, it's a win win situation.
"This is phase one of a broader vision for connecting small businesses to loyalty rewards programs."
For a long time only big business have been fully benefiting from points program, but now Points.com is offering Magento, the new storefront application. In partnership with Sweet Tooth small businesses can take advantage of giving their customers the ability to manage the reward and have access to points from American Airlines, Best Buy and so on.
A coaching program aimed at accelerating the growth of women-owned businesses
If you're a women and small business owner you know the biggest challenges are a lack of access to capital and an insufficient business network unlike male entrepreneurs. This award is to further support and education women entrepreneurs through a leadership program which makes available elite advisors and resources.
"One of the greatest risks to your company's survival, are the actions of your employees."
With Christmas around the corner this means… office parties have an unsavory reputation caused by unwelcome behaviour. As a business owner being proactive, outlining what is and is not acceptable is a good way to go whether or not it's the holiday season. These 3 tips will help you establish some ground rules will your employees.
"The Grow America Fund has created or retained over 9,500 jobs."
"$5.5 million low-cost loan and operating grant from Bank of America to expand its energy efficient retrofit financing programs for 20 small businesses in various industries. The program will directly have an impact on building owners in low-income communities; in part contributing to local job creation.
Nebraska has been at the bottom in venture capital funding, but no more!!!
Almost $60 million in both new public and private funds has been infused and made available for startup and other small businesses in Nebraska. Of the $60 million, $21 million has come from federal and state government. Needless to say this is very good news for Nebraska and it's economy.
BUT did you know that this assistance is also available to homeowners, renters, nonprofit organizations?
"The SBA's marks it $50 Billion Milestone in disaster assistance programs that has made it possible for small towns and large cities to rebuild, saving jobs and supporting the long-term economic recovery of areas that would have otherwise failed without the help."
For the first time in nearly 6 months, NFIB job reports show November was a good month
Seasonally adjusted, 13 percent of the owners added an average of three workers per firm over the past few months. The remaining 74 percent of owners made no net change in employment. It's not a huge boost but the lack of negative results seem to indicate a slow raising stability.
So there you have it the Top 10 interesting and relevant stories for the week of November 28. Based on this it looks like small businesses is getting a break. Let's hope the holiday season will also lend a hand.