Our picks for the week of December 12: the underlying strength in the U.S. economy, when to throw in the towel, a $2 billion injection and more on Crowdfunding.
You think twitter can do nothing for your small buisness, think again.
See how twitter changed this SmallBusinessLady, now a respected go to person on all small business related topics. She explains how twitter was also useful to help expand her business into other venues. A few key things; have a plan, know who you want to target and how you will interact with them to develop a relationship.
USDA Rural Development's Business Programs providing much needed capital.
In all USDA Rural Development's Business Programs funded 112 projects and delivering $59,720,237 in assistance to the state of Oregon during 2011. A list of programs to be funded in 2012 is also listed, among them; Rural Business Enterprise Grant (RBEG), Rural Business Opportunity Grant (RBOG) and Rural Economic Development Loan & Grant (REDLG) program. If you're outside of a big city center the USDA can be a good source of funding for your business.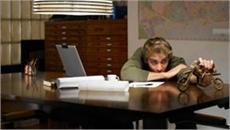 How Startup Founders Can Overcome Procrastination.
Honesty, these 5 tips could be for anyone not just Startup Founders, but i have to admit they are a little unconventional and not necessarily realistic considering not everyone can just get up and go to the gym when they start to space-out. But you never know what can work!
Money for small businesses; more ideas besides the usual grants and loans.
When it comes to small business grants non-profit organizations qualify more than for-profit organizations. But there are other types of government initiatives that provide money that are lesser known like; Individual Development Accounts (IDA), Small Business Innovation Research (SBIR) Program and Equity grants.
When should entrepreneurs give up on a struggling project?
After sacrificing so much time, blood, sweat and tears on a project or business idea that's having difficulty taking off; whether to throw in the towel or not is a very hard decision to make. If you're in this position you should try and evaluate the potential through clear metrics.
The Smallbusiness Pros & Cons of Hiring Third-Party Vendors.
When deliberating as to whether or not getting a 3rd party vendor is best for your small business the key question you want to ask yourself is this: "Is the service or platform I'm providing a specific piece, or is it a lot of pieces comprising a larger, more comprehensive process?"
What You May NOT Know But NEED to Know About the Crowd-Funding Bill.
"To be clear, this is not free money; these are bona fide investor-securities for which they will receive a return on their investment as well as ownership interest in your enterprise, be it film, music, games, art, books, inventions, startups, etc."
U need a business plan to make it; banks, investors… all need to see one! Here's Part 1!
A business plan is your strategy or roadmap. Any serious entrepreneur sees and understands its importance. It can prevent costly errors and constantly provides clarity at times when you feel you are loosing focus. Includec is a link to a how to video. What more do you want!
There is an strength rising in the U.S. ecomony, but why aren't we seeing it?
"There's underlying strength in the U.S. economy that's not being reported by stock market indices," said Phelan. "Profits drive confidence, and we're not seeing that profitability reported anywhere because these are privately owned companies."
Obama's announced a $2 billion package to aid budding entrepreneurs.
Of the $2 billion announced, the Small Business Administration (SBA) has launched $1 billion in the Early Stage Innovation Fund. Directed at budding entrepreneurs, providing matched capital to early-stage small businesses seeking private institutional capital.
Thanks for reading!